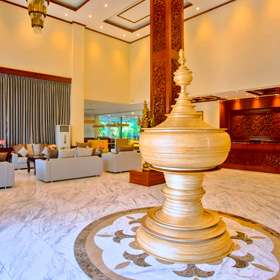 Sunset palace view hotel mandalay In the heart of the royal and historical city of Mandalay lies the newest luxury boutique home-away-from-home, tastefully marries the old and new in their 29 suites.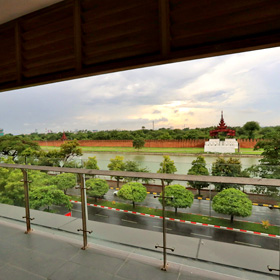 All of these combined with the warm hospitality and personalized services of Myanmar are the perfect ingredients in creating memorable guest experiences and culture of excellence.​
Its central location right across the entrance of Mandalay Palace, Sunset Palace View provides the both leisure and business travelers convenient access to the city's business hub and popular tourist attractions.​
Offering magnificent view of Mandalay Hill, Mandalay Palace, the city and its famed sunset.​​
Featuring a nice Mandalay Hill view, Palace view and city view, our suites have individual air-condition system, cable television, free Wi-Fi internet access, in-room safe, complimentary tea and coffee making facility, mini-bar, complimentary bottled water, kitchen setup, microwave, washing machine, iron & iron board, hot & cold water shower/bathtub with Jacuzzi, bathrobe and slippers, hairdryer, and extra guest toilet.​
Rooftop bar and Rooftop swimming pool are the best place in town to enjoy the sunrise and sunset views with the background of Mandalay Palace Wall. Our Serviced Apartment Suites also showcases an Art Gallery with over 130 paintings unique to Myanmar, the best place in Mandalay for the long stay.​
The glorious Mandalay Palace's Wall is a scene one can never forget. It's even more magnificent during the sunrise and sunset; truly a Photographers' Heaven. The Palace Wall across the street is also a jogger's paradise; early morning Mandalay breeze will make your day marvelous.​